Our School Story
Maple Lane Elementary:
Maple Lane is an elementary school located in South-Central Richmond. This close knit school was built in 1974 to serve the residents of the new Maple Lane subdivision between No 3 Road and Gilbert and between Williams Road and Steveston Highway. Our enrolment as of January 2023 is 250 students.
2022-2023: 
At Maple Lane Elementary, we continue to focus on growth mindset in our students.  More specifically, what do students do when they face adversity and struggle?  We want our students to understand what it means to be resilient and persevere through challenging tasks across the curriculum.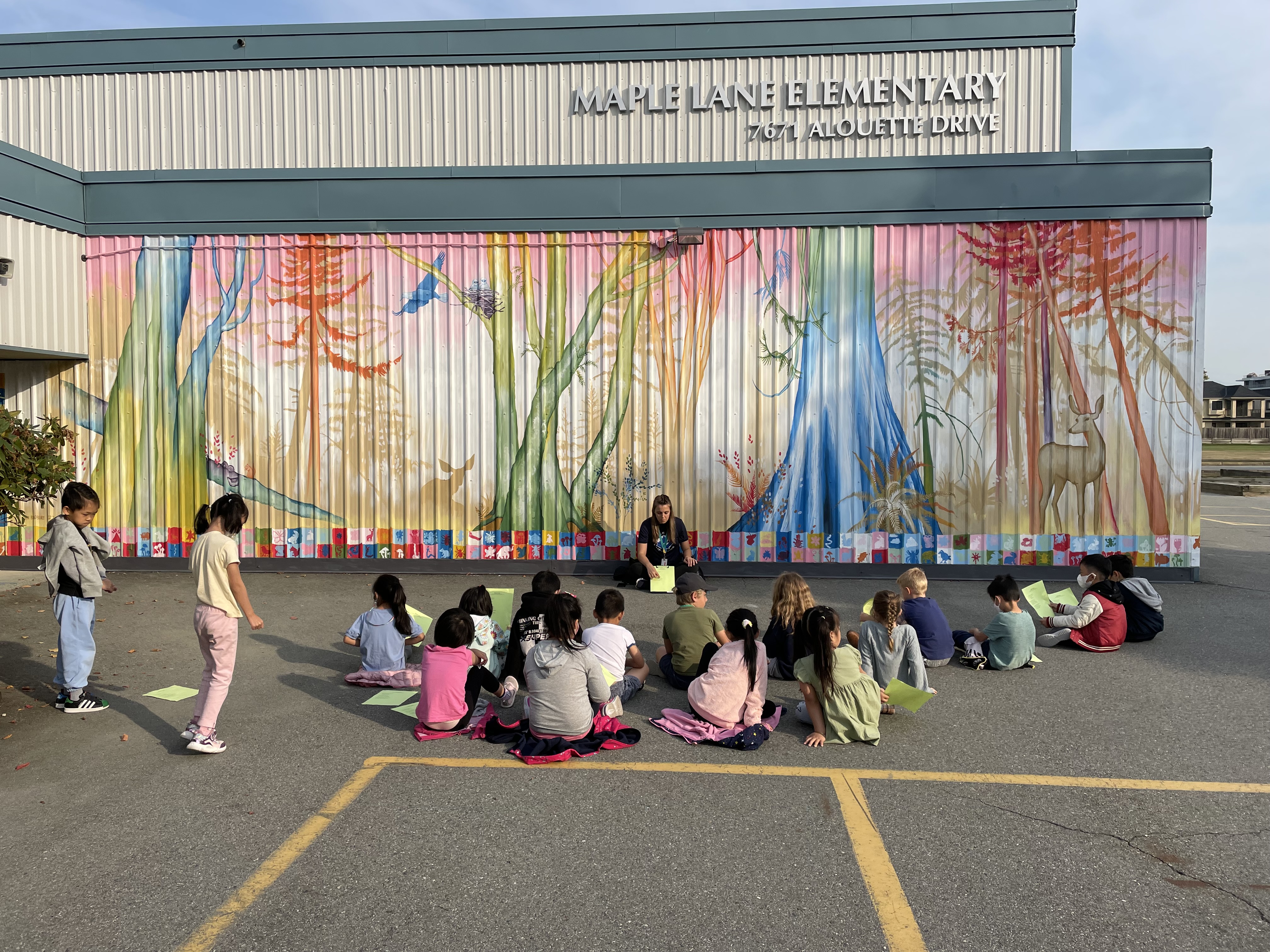 2021-2022: The question that is driving our learning:
How can we support our students to develop a growth mindset towards their learning and show resiliency when faced with adversity and struggle.
2021-2022- ABOUT US
The population of Maple Lane continues to grow.  We have ten divisions and 241 students this year.  As a staff we are modelling perseverance, despite the pandemic, we continue to provide rich, engaging and diverse activities for our students. We are working on developing our students' core competencies, those skills that support us in communicating, knowing who we are and thinking creatively and critically. Our focus this year, is to come to a better understanding of resilience.  What is resilience?  What are the foundations of developing resilience in our students? How can we support students so that they can develop resilience and be able to reflect on their ability to be resilient when things are challenging.
2020-2021
The population of Maple Lane Elementary over the last 10 years has been stable at approximately 170 students. Last year (2019/120), our enrolment increased to 216 students, and in our current year (2020/2021), our student population is 233 students. If you compare our student population to other Richmond School District elementary schools, we are a school with a lower enrolment. Don't let this fool you though, everyone in the Maple Lane community has great spirit and heart and there are a lot of exciting things happening at Maple Lane. A great strength in our school is the fact that we have a lower student population. At Maple Lane, our staff know our students and our students know most of our staff. We work hard to provide many opportunities for students to meet and work with other students from different age groups and classrooms. Our survey results tell us that most of our students feel very connected to other members of our school, and this connection makes them feel safe and happy. 
The staff at Maple Lane work extremely hard to provide unique and engaging learning experiences for our students. Staff at Maple Lane are dedicated to their own learning. They love to learn about new instructional strategies and tools that can support student learning. Some of the exciting things our teachers are learning include: using ePortfolios to communicate student learning to parents; creating engaging flexible learning environments for students; using the MindUp program to teach students to manage their social-emotional challenges; developing a positive growth mindset as opposed to a fixed mindset to help develop resiliency; learning about outdoor work spaces including classroom gardens; and incorporating the First People's Principles of Learning into classroom lessons. 
Currently, all staff are using student ePortfolios to communicate student learning. A student's ePortfolio gives parents a new and exciting 'window' into their child's classroom and provides a much more informative forum for teachers to communicate student learning to parents. In ePortfolios parents can view pictures and video of their child's work, see descriptive feedback from classroom teachers, see self assessments by their child and it allows parents to write feedback for their child. Several Maple Lane teachers are learning about Flexible Learning Environments for students. Teachers are incorporating what they are learning into the design of their classroom, with the intention of creating comfortable and engaging learning environments for their students. This year at Maple Lane two sets of classes are learning together in large open learning spaces.
Maple Lane has a very caring and supportive parent community. Our school PAC (Parent Advisory Council) works extremely hard to support the school. Over the past few years they have fundraised tirelessly to support the school in purchasing a class set of iPads, sound walls for our music programs, projectors for each of our classrooms, soccer nets for student recreation and an expansion of the playground structures. Students and staff feel supported by the parents at Maple Lane, and parent support is another reason why Maple Lane is a strong community
At Maple Lane there is a great emphasis on all members of the school being socially responsible. Students, staff and parents are encouraged to care for others, for the environment, and for themselves. Students and teachers talk about how to be a positive contributor to our community, and we view challenges and problems as opportunities that can help us learn and grow. In the Spring of 2018, all stakeholders in the Maple Lane community worked together to create our school Social Responsibility Acronym called S.P.A.R.K. Our acronym stands for Safe, Positive, Accountable, Respectful and Kind. We arrived upon these values together when students, parents and staff completed a 'Values Survey'. Our social responsibility acronym guides how we interact with each other as we work, learn and play. Our acronym provides a framework and common language that can be used at school and at home. 
Our Commitment and Focus
Our commitment is to support an inclusive community of learners where individuals co-operate and develop to their full potential. Our school has a strong focus on Social Responsibility. Students learn to be well-rounded individuals who treat others with respect and care. Emphasis is placed on members of our school community caring for others, caring for our school and community, and caring for self.